We have our first ever guest blogger here today! Meet Fawnda, from Fireflies and Jellybeans!
:)
I'm over at her blog today, so I hope you'll pop over!
Hello From an Igloo Readers! ! I am so excited to be guest posting here today!
Let me introduce myself!
I am Fawnda from
Fireflies and Jellybeans
a little DIY blog that I co-author with my best friend Jeannine.
We have all kinds of fun stuff going one at
Fireflies and Jellybeans
! We have a Show Off Your Stuff Party every Thursday where you can link up your posts that you want to show off!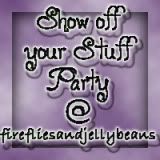 We also have the
Iron Crafter Competition
, where crafters compete to make projects with a secret ingredient!
Today I am going to show you one of my FAVORITE projects! My Travel First-Aid Kit!
I love my travel first aid kit! I love that it fits in my purse, that it has all the stuff that I need and when I am clumsy I can still look good! You can make your own!
Here is what you need:
2 kids of fabric (1 Fat quarter of each should be enough)
Fusible fleece
Elastic (1 used 1 inch thick)
Elastic cord or elastic hair bands
Buttons
Zipper
Sewing machine (with thread, scissors etc...)
1. Cut out your fabric.
2 pieces 17" X 6" for the backing
1 piece of each: 6" X 9" , 3.5'' X 9", for the pockets
1 piece of 4" X 4" for the flap for the pocket (not pictured)
2. Cut out your pieces of fusible fleece. (I like to cut mine a little smaller to give me room for seams. I cut mine to be 16 X 5.) Iron it on to the WRONG side of your two backing pieces. This is to give it strength and cushion.
3. Iron all your pocket and flap pieces in half WRONG sides together so that you have these rectangles:
6 X 4.5
3.5 X 4.5
4 X 2
4. Sew down the tow sides of each pocket and flap. Leave the bottom open to flip right-side-out.
(Flap not pictured again... it is a little shy!)
5. Now we are going to attach the zipper pocket. This is the first zipper pocket that I have done. So, there may be an easier way to do it but this is how I did it.
First I measure and marked where the end of my pocket was on the zipper. I used the 6" side of the pocket. I marked the zipper with a pin.
6. Sew 5-10 whip stitches at your mark to make a new end to your zipper.
7. Cut off the extra part of the zipper
8. Put your zipper foot on your sewing machine and sew the RIGHT side of your pocket to the TOP side of your zipper.
8. Now, place you pocket (with the zipper) on one side of your backing where you want it to be placed. You want to make sure that it is at least an inch from the end.
9.Now flip the pocket up (So now the WRONG side is facing up) and pin the zipper in place.
10. Sew the zipper on.
12. Now measure 4 inches away from your zipper pocket and place you 3.5 X4.5 pocket on your backing and pin in place.
13. Sew down the 2 sides of your pocket. Leave the bottom open, we will finish that later too.
14. Now place your flap over your little pocket and pin in place. the flap should reach the top of your backing. You do not need to sew it on yet we will sew it when we put the other backing side on.
15. Cut a piece of elastic to be about 4.5 - 5 inches long. I made mine 5 inches and it was a little too long, so I would suggest 4.5 inches.
16. Fold over one end of the elastic and sew it the back at the edge of one of your pockets in the middle.
17. Repeat on the other side, so that it looks like this.
18. Sew a vertical line in the middle, there should be some slack in the elastic, so that it looks like this:
19. Make 2 loops out of your elastic cord (or you can use an elastic hair binder) and pin then to the 6 inch side of your backing (on the side opposite of the zipper pocket.)
20. Place you other backing piece over the one with the pockets with RIGHT sides together and pin all the way around.
I like to mark my opening with double pins so that I know where to stop sewing.
21. Sew around the outside edges of your rectangle leaving a 3-4 inch opening to flip right-side-out. I use a 1/2 seam allowance. Make sure you get all the pockets in the seams because this is how we are finishing those edges.
22. Cut off the corners.
23. Flip right side out and make sure your corners are all pushed out. I like to use a knitting needle to help get nice corner. (your pockets should all be finished in the seams now) Flip your unfinished edges of your opening inside and iron your seams.
24. Top sew all the way around the rectangle (closing your opening.)
25. I added some top stitching were the folds of the kit are to make it easy to "crease" closed. I used the pockets as my guides and top stiched from the top to the bottom. This is optional.
26. Fold your kit closed, pull on your loops and mark where your button should go.
27. Hand sew on your buttons. I had to go inside of my pocket for mine.
28. Fill it up with all your first aid needs:
The small pocket is for bandages and cleansing wipes. The elastic straps are to hold the antiseptic and Children's Tylenol. The zipper pocket for bigger bandages, tweezers, and suckers (nothing heals a boo-boo faster than a sucker!).
Fireflies and Jellybeans
We love to meet new friends!
Thanks so much, Christine, for letting me invade your blog! It was so MUCH FUN! :)